Shows » Ivan's Three Wishes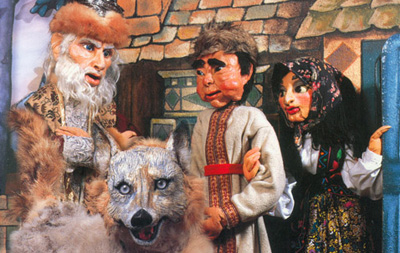 This is the story of a lovable Russian peasant who is always wishing for things he doesn't have. When Baba Yaga sends him on a quest to the North to find his wishes, he is guided across the Siberian Icefields by a magic wolf. Little does Ivan know, but the Icewolf has been put under a spell and only under the shimmering lights of the Aurora can she transform into her true shape…The beautiful daughter of Tsar Nikolas of the North!
This musical show is based on Russian folklore, and features large rod puppets and lots of beautiful scenic and lighting effects. It is a wonderful presentation of the message that those who wish for wealth may already be rich in ways they don't realize!