Shows » The Lion's Whiskers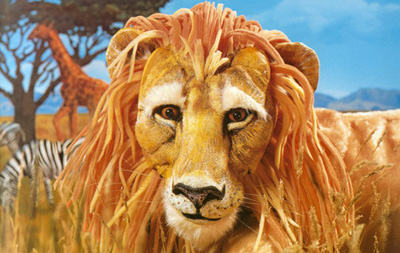 A delightful musical adaptation of a traditional Ethiopian folktale, this show features a charming cast of human characters as well as our favorite African animals! When lonely Minya marries a widowed man with a son, she goes to a Wise Man for advice. He tells her that in order to win the heart of the little boy she must first pluck three whiskers from a Wild Lion! In doing so she not only finds the courage to tame the lion, but also the secret to gaining the love of her new family.
The show features a multitude of masks and puppets ranging from three quarter life-sized to gigantic and is highlighted with shadow puppetry and original songs.