Shows » Sister Rain and Brother Sun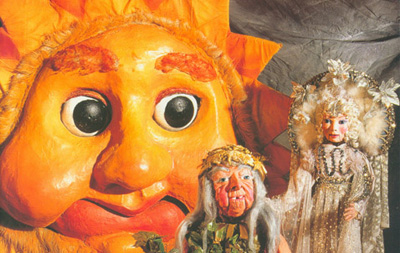 This musical nature-tale features lots of audience participation and Brother Sun, a huge, talking sun face seven feet in diameter with movable mouth and eyes! The story is acted out by large, animated rod puppets with finely chiseled features and colorful sets and costumes. Some of the players are Mother Nature, a grizzled old wise-woman covered with vines, Farmer McGreedy, a crafty old hillbilly, Little Bear and the beautiful, glistening Sister Rain! When Sister Rain becomes jealous of Brother Sun and stops watering the Earth, Mother Nature and the audience must join forces to save the day.
This show also includes plenty of lively original music! It's great for adults and older folks as well as children!